What are the Benefits of a Garage Door Opener?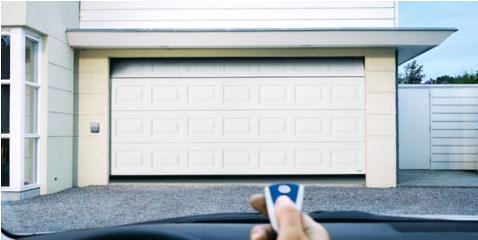 WHY YOU SHOULD INVEST IN GARAGE DOOR OPENER?
"Convenience is irreplaceable. People just want the smartest phone, the most featured car, and a microwave that cooks quicker than any other in the kitchen. There's no time to cope with any inconvenience."
With the need to speed up each aspect of human life, the garage door opener is definitely a real blessing. Who likes to come out of their car, to open the garage door? Not a lot of people, one could reasonably conclude that.
Convenience is definitely an attraction with garage door openers. But is that the one and only?
BENEFITS OF A GARAGE DOOR OPENER
Here are just some of the advantages of an automatic garage door opener.
SAFETY
You don't need to think about the garage door falling on something or someone in the way, or the fingers getting trapped anytime.
Especially for those with some medical condition, such as joint pain, or small kids, garage door openers may be vital.
AUTOMATIC CLOSURE
Automatic closing means that you don't have to get out of your car to shut the door. This is perfect if you have children and you often forget to lock your garage door.
LIGHTING
Your garage is packed with an assortment of heavy stuff and oily puddles. As a result, the garage is an area where you need to be very careful as you navigate it. One measure to ensure care is to make sure that the area is well lit so that you can see all the unpleasant hurdles you need to avoid.
Most garage door opener systems come with an extra light for your garage. While this feature may not be a big selling point for your garage door opener, it definitely proves to be a great benefit. And in a room with many things to fall on and bang on, a little extra light is definitely welcome, particularly when it's a plus!
TECHNOLOGY
Advanced garage door openers are available with a variety of features and facilities to give you more comfort. Other advantages of garage door opener also include the power to control smartphone apps. This allows you to make sure that your door is closed, wherever you are, or to send an alert to let you know that your door is still open.
MINIMAL MAINTENANCE
One of the advantages of an automatic garage door opener is that it doesn't require a lot of maintenance, but you will like to keep yours in line with the manufacturer's instructions so that it always works when you really need it.
A garage door opener is a great convenience, but most of all, it's a safe, secure, low-cost facility that will only benefit your living. If you think the garage door opener is right for you, call the experts at Illini garage today and schedule an installation!